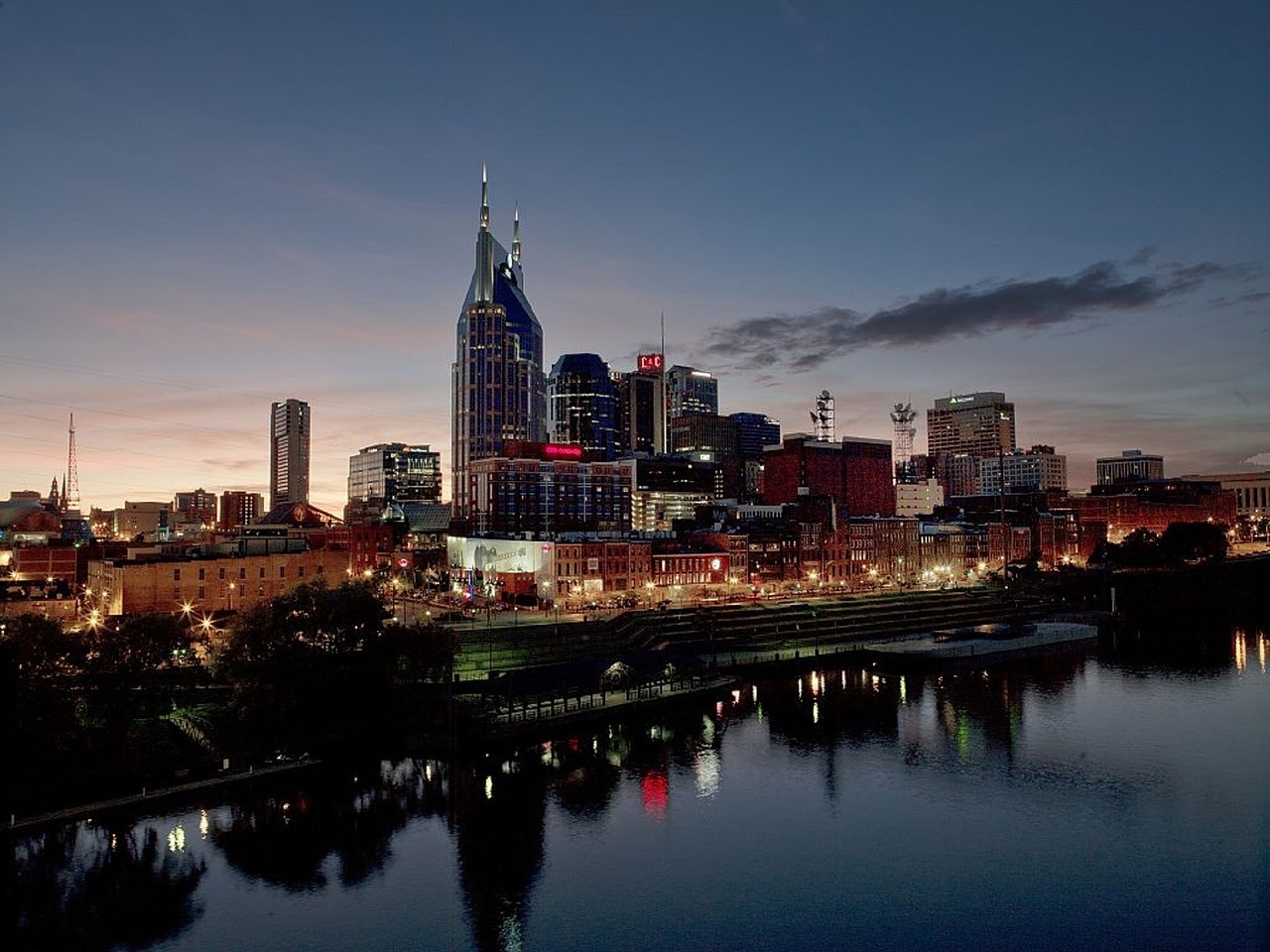 Nashville, TN, may be the home of country music, but the once-sleepy southern town is also becoming a multi-national business hub. Over 350 companies have relocated their corporate headquarters to Nashville, including Alliance Bernstein, Orchids Paper Products, and Schuman Retail Group. According to Forbes Magazine, the job market in Nashville has grown by 42.6% since 2011.
The financial impact on Nashville and its surrounding areas is tangible. The economy in Tennessee's capitol has grown faster than the average national economy. Per capita income for Davidson County rose to $63,063 in 2017. This outpaced the national per capita income, which averaged $51,640 for the same year. Workers in Davidson County made an average of $11,423 more than employees in the rest of the country.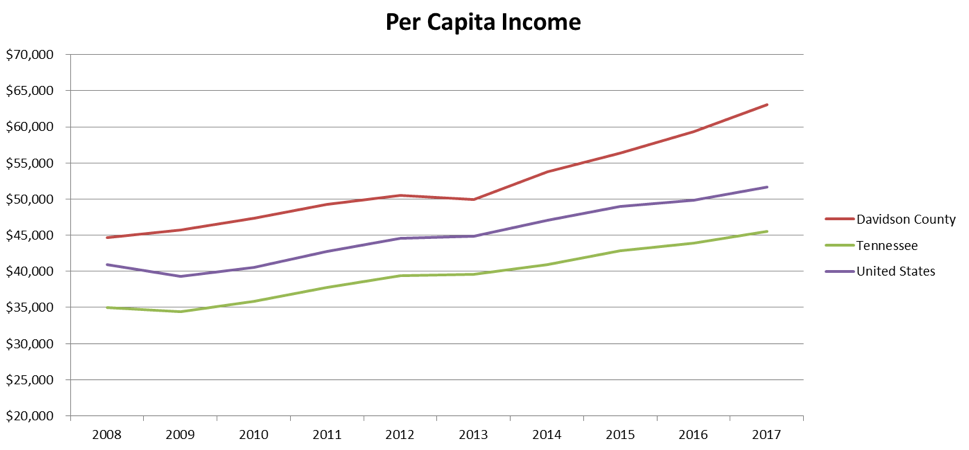 Source: Bureau of Economic Analysis, U.S. Department of Commerce 
With the increase of employment opportunities, and the influx of people moving to the Nashville MSA to fill those positions, Nashville found itself the center of a housing boom. Multifamily transactions had low cap rates and great momentum, with $1.3 billion traded in 2017. Nashville's West End area has seen $347 million in multifamily transaction volume. Price per square foot increased to $128 in 2018.  As of November 2018, 3,167 new multifamily units were granted building permits. This is down from the building peak in 2015, in which 5,751 permits were issued. Taking an average from 2009 to November 2018, that works out to 2,528 multifamily building permits per year. The Tennessean states that it is, on average, less expensive to rent a three-bedroom apartment in Nashville than to own a standard single-family home.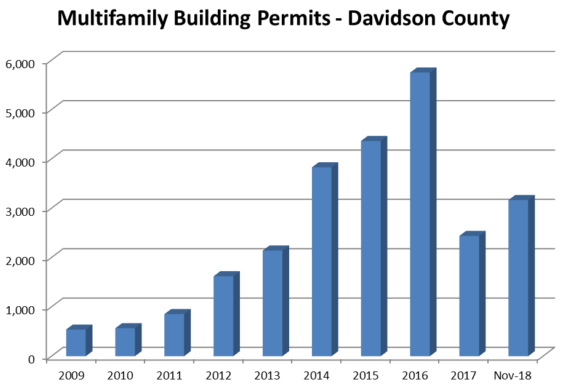 Source: Office of Policy Development and Research (PD&R) U.S. Department of Housing and Urban Development
The market for existing properties is also expanding. Four of the largest multifamily transactions in Tennessee took place within the Nashville area. Ashton Brook, a 390-unit property in the outlying town of Franklin, was acquired for $86.5 million. According to the Nashville Business Journal, this was the largest confirmed transaction for the Nashville MSA in 2018.  
This rapid growth comes with a downside, though. As of 2017, 34.16% of tenants in multifamily units were paying over 35% of their gross household income towards rent. That's over 45,000 residents, as surveyed by the U.S. Census Bureau's 2017 American Community Survey, which are financially overburdened by their rent payment.
Fannie Mae is predicting a softening of the Nashville rental market in the near future. As new apartments continue to be built, the percentage of vacancies should rise while some submarkets will be forced to lower their rental rates.
However, Nashville is striving to stay ahead of the forecast downturn. Mayor David Briley recently introduced the "Under One Roof 2029" initiative, which will create 10,000 units of affordable housing. The city will contribute $500 million to the project, while reaching out to private sector investors to donate the $250 million needed to complete the construction.
As the job market continues to expand, drawing new residents from around the world, the Nashville multifamily housing market should also grow. It remains an inviting market for business start-ups and expansion. Even with a natural contraction expected in certain submarkets, the future is bright for Nashville housing.